Custom Furniture
Custom Sofas & Sectionals
200 Styles, 1000's of Fabrics, Starting At $800
While all of the furniture that we offer is unique and high end, sometimes you have a clear vision of what you want and simply can't find it in any showroom. That's why McKinney Furniture and Design offers custom sofas and sectionals. We know how important it is that your piece fits in with the rest of your decor, and we will work closely with you to ensure that we create a sofa or sectional that you love.
---
Step One: Choose Your Style
We proudly offer more than 200 styles, ensuring that no matter what you are looking for, we have something for you. Find your perfect sofa or sectional style and we'll customize it to your unique taste and needs.
Step Two: Choose Your Configuration
Making sure that your furniture fits in perfectly to your room is vital to ensuring that your investment is a good one. McKinney Furniture and Design will happily work with you to make sure that the configuration of your sofa or sectional works for you.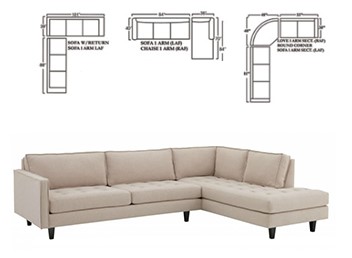 Step Three: Choose Your Fabric
Fabric is where you really get to choose what your sofa or sectional will look like. Will it be a bright statement piece? Will it be an understated but classic place to put your feet up after a long day? You get to decide.
Ready to start creating your own piece of custom furniture? Call McKinley Furniture and Design today. We look forward to working with you!
---