If you are considering purchasing custom-made furniture, but are still on the fence, then hopefully we can shed some light on why custom furniture is a great choice. We have culled some of the top reasons to show you how your home can benefit from ordering custom-made furniture. McKinney Furniture and Design provides the opportunity for you to design the pieces that will be the perfect addition to your space. With careful attention to every detail, you will receive the piece that will be the epitome of perfection to add to your home. Continue reading to see what custom-made furniture can do for you.
Tailored To You
Picture yourself in a McKinney furniture store searching for a new piece for your home. You find something that is almost perfect, but one feature is missing. Maybe there's a missing functionality aspect or a design feature that you don't quite like. If the previous situation sounds familiar, then you will probably want to consider taking the path to custom-made furniture. Talking with an artisan, or carpenter affords the freedom to choose each element such as the type of fabric, color, even the stitching. Maybe you have a cozy space that could benefit from additional storage options, but you would prefer to keep your space looking sleek and clean. If the functional aspect is important, you have complete say over that as well. Contact McKinney Furniture and Design to discuss what we can create for you.
Focus On Quality
Crafting a one-time, custom-made piece of furniture, compared to mass-producing furniture is as different as night and day. The amount of time and care that a master artisan invests into a chair, or table, or sofa far exceeds that which is put into mass-produced furniture. The old saying, "you get what you pay for", definitely applies in this situation. Custom-made furniture is more akin to a great work of art. When you receive your completed furniture, you will be able to discern immediately that an immense amount of time, care, and labor was poured into its creation. Let us show you McKinney Furniture and Design's focus on quality. Stop by our store today!
Provides Versatility
If you have thought about finding furniture that will not only fit perfectly into your space but will also provide much-needed versatility through non-standard features, McKinney Furniture and Design can help. Maybe you are looking for nightstands that have additional shelves to accommodate the books you enjoy reading at bedtime or the candle that helps you relax. Perhaps you want extra storage or drawers under your bed, but prefer for them not to be seen. It may be that you need a table that has the ability to accommodate a large group of people for festive occasions, but you prefer to have a significantly smaller table for the rest of the time. Whatever feature you want or need, we can help. We assist the discerning furniture buyer in McKinney in creating and acquiring the exact piece they want. It may be that you need a table that has the ability to accommodate a large group of people for festive occasions, but you prefer to have a significantly smaller table for the rest of the time.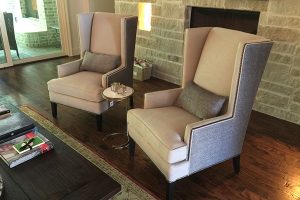 Environmentally Friendly
For people who value quality in their furniture, making sure that it is responsibly sourced is also a top priority. Purchasing mass-produced furniture can make it quite difficult to ascertain exactly where the item was made, where the raw materials were sourced from, and also what kind of working conditions exist for the laborer(s). Custom-made furniture allows you to connect directly with the local artisan, or carpenter, who will be creating your piece. It also provides transparency for each of the items mentioned above. Another benefit of custom furniture is that you can rest assured that the materials used will all comply with local laws regarding textiles that are considered to be hazardous to the environment, or your personal health.
Value For Investment
When you come to McKinney Furniture and Design, you should enter our store with the intention that you will let us know the dimensions that you have to work with, and then we will take care of designing the piece that you want to fit perfectly in the space that you have. Why look for furniture with the mentality that you hope you find something that will fit and look relatively decent? Decide what you need with confidence, knowing that we will take care of the rest. You will receive the exact piece you wanted with the highest quality of products and craftsmanship. You deserve the best value for the investment that you are placing in your furniture. We take pride in providing the best customer service and the highest quality of products for our McKinney clients. Let us show you what we can do for your home!